全球電信商智慧城市大會 / World Telecom Smart City Conference

2018 World Telecom Smart City Conference
Date:
Wednesday, March 28th, 2018
Time:
Morning Session 10:00-12:10 Afternoon Session 13:30-16:05
Venue:
Taipei World Trade Center Nangang Exhibition Hall, Conference Room B, 1F
Register:
http://smartcity.org.tw/m_service.php
Building Smart City has become an important trend globally. In the past, telecom operators were already crucial partners in terms of city infrastructure. With IoT becoming basic communication facilities in every city, the role of telecom operators cannot be overemphasized in smart city development.
The World Telecom Smart City Conference has thus been one of the highlights in the Smart City Summit & Expo every year, where most renowned operators are invited to share their experience in the construction of smart cities.

The technology of 5G Mobile Networks will gradually expand the implementation in cities and global business by 2020, in which Connected Cars and Artificial Intelligence will also be integrated, contributing to a rapid market development. In response to such transformation, 2018 World Telecom Smart City Conference will be conducted under three themes: "Global Trends in Connected Cars;" "Creating New Economy of Telecommunications Business with AI" and "Case Studies in Smart City Construction." The rich exchange of all innovations generates strong force that fosters the development of smart cities.
This is a growing network where diverse opportunities are inspired. We are now calling for telecom operators and experts alike to join us at Smart City Summit & Expo 2018.
Organizers:
MOEA; Industrial Development Bureau (IDB); Taipei Computer Association (TCA); Taiwan Smart City Solutions Alliance (TSSA); Taiwan Telematics Industry Association (TTIA); Industrial Technology Research Institute (ITRT)
Co-organizer:
Taiwan Telecommunication Industry Development Association (TTIDA); CANADIAN TRADE OFFICE IN TAIPEI. (CTOT)
2018全球電信商智慧城市大會
建設智慧城市已經是重要發展趨勢,過去電信商在電信基礎建設上是城市的重要夥伴,現在電信商是全球各城市發展智慧城市最重要的夥伴,「全球電信商智慧城市大會」是每年SCSE的重要活動之一,期望邀請全世界的電信商來分享建設智慧城市的經驗。

5G通訊技術即將於2020年逐步於全球商業運轉,Connected Car 及人工智慧也都將結合5G通訊快速進入商業市場,因應這項趨勢的發展,2018全球電信商智慧城市大會特別規劃兩個論壇主題:Globe trends in Connected Car 和 以AI創造電信服務新經濟,這些先進技術的應用也是推動智慧城市重要動能,歡迎全世界的電信商報名參加。
主辦單位:
經濟部, 經濟部工業局, 台北市電腦公會(TCA), 台灣智慧城市產業聯盟(TSSA), 台灣車聯網產業協會(TTIA), 工研院
協辦單位:
台灣電信產業發展協會(TTIDA), 加拿大駐台北貿易辦事處(CTOT)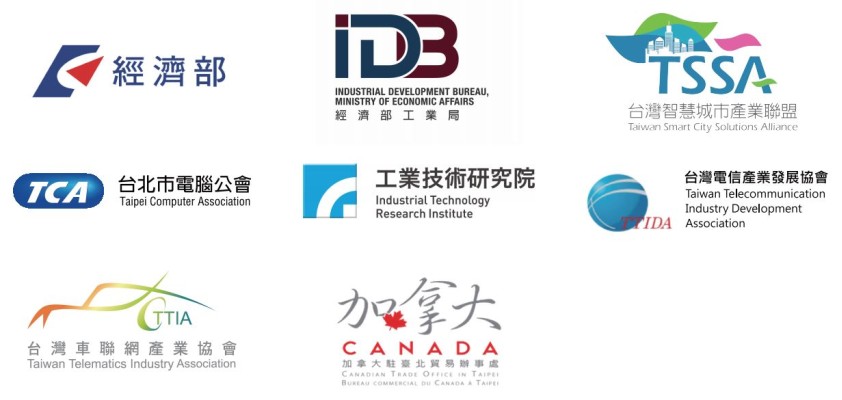 ---
•Date: Mar 28, 2018
•Time: 10:00 – 12:10 (10:00 Registration)
•Venue: Nangang Exhibition Center, Conference Room B, 1F
全球電信商智慧城市大會

車聯網發展論壇

Global Trends in Connected Car (Track A1)

10:00-10:20

Registration

報到

10:20-10:30

Opening Remarks

貴賓致詞

台灣車聯網產業協會 理事長 林郭文艷

Wen-Yen, Lin Kuo, Chairperson, TTIA

10:30-11:00

Keynote Speech 1 "Velotonomy: Beyond Uber, Bike-Sharing & Autonomous Cars "

Phil Tinn Research Scientist at MIT Media Lab's City Science Group

11:00-11:30

Keynote Speech 2 AWS advanced application in connected car

專題演講 2 AWS 車聯網先進應用

Richard Elberger, Partner Solutions Architect Amazon Web Services

11:30-11:50

FET's IoT Strategy and Initiatives for Connected Vehicles

Mr. Philip Tseng, Executive Vice President, Enterprise & Carrier BU, Far EasTone

遠傳電信 執行副總 曾詩淵

11:50-12:10

IoT Application Development in Chunghwa Telecom

Dr. Kuen-Rong Lo, Director of IoT Laboratory in the Telecommunication Laboratories, Chunghwa Telecom Co. Ltd.

中華電信的IoT應用發展

中華電信研究所 所長 羅坤榮
**Please note that the agenda above is tentative and subject to change, the organizer will keep updating please stay tuned
---
•Date: Mar 28, 2018
•Time: 13:30 – 16:05 (10:00 Registration)
•Venue: Nangang Exhibition Center, Conference Room B, 1F
全球電信商智慧城市大會

車聯網發展論壇

Global Trends in Connected Car (Track A2)

13:30-

Registration

報到

13:30-14:00

Keynote Speech 3

European cross-border testbed initiative on cooperative, connected and automated mobility

Mr. Jean Schiltz

External Consultant Smart Mobility on behalf of the Ministry of the Economy, Luxembourg

14:00-14:20

55688 共享運輸與平台經濟

55688 Shared transport system and platform economy

台灣大車隊 總經理 李瓊淑

Chiung Shu, Lee

General Manager, Director & Spokesman, Taiwan Taxi Co. Ltd

14:20-14:35

Break & Networking 休息與交流

14:35-15:05

Keynote Speech 4

A mobility service concept for future city

Nathapong Dumrongraj, Manager of Contents Development & Distribution Department, TOYOTA TSUSHO NEXTY ELECTRONICS (THAILAND) CO., LTD

15:05-15:35

Keynote Speech

Revolutionise the viewing experience of the Tour de France

Jean-Francois Gebhart, Head of IoT APAC Dimension Data Asia Pacific Pte Ltd

15:35-16:05

低延遲5G核心網路與車載服務應用

Low latency 5G EPC in Telematics service

資策會智慧系統所 顧問 莊淑閔

Shu-Min Chuang

Consultant of Smart System Institute (SSI), Institute for Information Industry (III)
**Please note that the agenda above is tentative and subject to change, the organizer will keep updating please stay tuned
---
•Date: Mar 28, 2018
•Time: 13:00 – 16:25 (13:00 Registration)
•Venue: Nangang Exhibition Center, Main Stage, 1F
全球電信商智慧城市大會

以AI 創造電信服務商新經濟

Creating New Economy of Telecommunications Business with AI (Track B)

13:00~13:30
Registration
13:30~13:35

Welcome Remarks

Chih-Ching Yang, Deputy Director General, Industrial Development Bureau, MOEA

13:35~14:05

The Strategic Layout of AI in SoftBank Mobile Operator Business

Satoshi Yamada, Acting Director, AI & Data Science Department, Softbank (Japanese translated to English)

14:05~14:25

Telecom Operators strategy when facing the development of AI

Pedro Bandeira, Director, NOS INOVAÇÃO

14:25~14:45

Making On-device AI Ubiquitous

ST Liew, President, Taiwan Qualcomm Communications Technologies

14:45~15:05

How Telecommunication Business Manipulates Big Data to Develop the AI Service

Dean Samuels, Head of Solutions Architecture for Hong Kong and Taiwan, AWS

15:05~15:25

Tea Break & Networking

15:25~15:45

Enabling Self-Organizing Networks (SON) in 5G networks through Generative Machine Learning

Handol Kim, General Manager Quadrant.AI

15:45~16:45

Panel:The Strategy of Telecommunications Business when Facing the AI Development

Host:Yennen Huang, Managing Director, Asia IoT Alliance (AIoTA)

Joy, TSU-I Hsu, Senior Director, Chunghwa Telecom Telecommunication Laboratories
Willy Kuo, Chief Architect, Linker Networks
Jesse Chao, Program Lead, 5G Automation, Ericsson
**Please note that the agenda above is tentative and subject to change, the organizer will keep updating please stay tuned
---
•Date: Mar 28, 2018
•Time: 10:10 – 12:30 (10:10 Registration)
•Venue: Nangang Exhibition Center, Main Stage, 1F
全球電信商智慧城市大會

物聯網時代下電信商的策略布局

Case Studies in Smart City Construction (Track C)

10:10~10:15

Registration

10:15~10:20

Welcome Remarks

Ming-Hsin Kung, Deputy Minister of the Ministry of Economic Affairs

10:20~10:35

The European Digital Economic & Society Index (DESI) leverage in formulating Cyprus' Broadband Plan

Neophytos Papadopoulos, Director of OCECPR, Cyprus

10:35~10:50

Designing Digital Workspace

Zamry Ibrahim, TM ONE's Sales Director

10:50~11:05

Orange Smart Cities

Mirela Juravle, Head of IoT, Smart Cities, Big Data Practice APAC at Orange Business Services

11:05~11:20

Smart City Case Studies: Poland

Pawel Sokolowski, Director, Consumer Electronic Department, Cyfrowy Polsat Group

11:20~11:30

Break & Networking

11:30~11:45

Paving the way to become ISO 37120 standard compatible with the City Management Platform Metropolis

Pawel Sokolowski, Director of Digital City Infrastructure, ASSECO International

11:45~12:30

Panel Discussion:

How to Initiate New Engagement for Telecom to Take Part in Smart City Applications (drafted)

How IoT Technology solves City Problems
How IoT Technology serves Citizens

Host:Dr. Shuo-Yan Chou, Professor, Industrial Management, NTUST

主持人:周碩彥

台灣科技大學工業管理系教授

Neophytos Papadopoulos, Director of OCECPR, Cyprus

Naranmandakh. Tumen-Ulzii, Chief Secretary, Communications Regulatory Commission of Mongolia

Zamry Ibrahim, Sales Director, TM ONE

Mirela Juravle, Head of IoT and Smart Cities, APAC, Orange Business Services

Pawel Sokolowski, Director, Consumer Electronic Department, Cyfrowy Polsat Group

Matt Montgomery, Head of Innovation, Auckland Council, New Zealand
**Please note that the agenda above is tentative and subject to change, the organizer will keep updating please stay tuned
---
•Date: Mar 29, 2018
•Time: 10:00 – 11:50 (10:00 Registration)
•Venue: Nangang Exhibition Center, Conference Room A, 1F
全球電信商智慧城市大會

物聯網時代下電信商的策略規劃

TELCOS' Strategies and Roadmap in IoT Era (Track D)

10:00-10:30

Registration

報到

10:30-10:50

Ride on the Wave of Internet of Things

Luke Wang

Director, IoT Solution Management Enterprise & Carrier BU, FET

10:50-11:10

Build Smart and Safe Cities with IoT

Joe Chan, Vice President, Head of Enterprise, Southeast Asia and Oceania, Samsung Electronics

11:10-11:30

Decoding Digital Cities

Merrick Spain

Smart Cities Lead, Telstra Corporation Limited

11:30-11:50

Opportunities and Challenges of Global IoT Business

Hermann Huang

Deputy Director, Taiwan Mobile
**Please note that the agenda above is tentative and subject to change, the organizer will keep updating please stay tuned